Intro
My wife and I just got back from our 10 day cruise to the South Pacific. We visited Santo, Port Vila, Mystery Island, Lifou and Noumea. I must say that it was the most exciting holiday ever.
More
Booking
We booked our P&O Cruise thru Student Flights which was close to my wife's work. Lorraine paid a deposit and then paid every fortnight until the balance was paid off.
Pre Cruise
P&O has a customer portal called "Cruise Control". This allows you to register, print tickets and bag tags, signup for Shore Tours and get the latest information for your cruise. The best part about cruise control was the countdown timer to when the cruise departs.
Day 1: Wednesday 12 October
Arrived at terminal and dropped off bags at luggage collection point and waited in line. We checked in with passport, tickets and filled out customs form.
We had our picture taken and cruise card printed. Then we made into the lounge area to be called up according to our deck number.
Walked thru to customs, scanned and then our first photograph by the ships photographers. Onward to the Gangway, scanned our cruise cards as we stepped onto the ship.
Tip: Don't lose your cruise card. You use your cruise card for everything. You use it to purchase anything on the ship. It is your key for your cabin. It allows you to enter and exit the ship. You can purchase a lanyard on the ship or have a lanyard already like we did. I suggest a lanyard with a plastic sleeve for your cruise card to go into. We have heard that insect repellant will take off the print on the cruise card, hence why we put it into a plastic sleeve. 🙂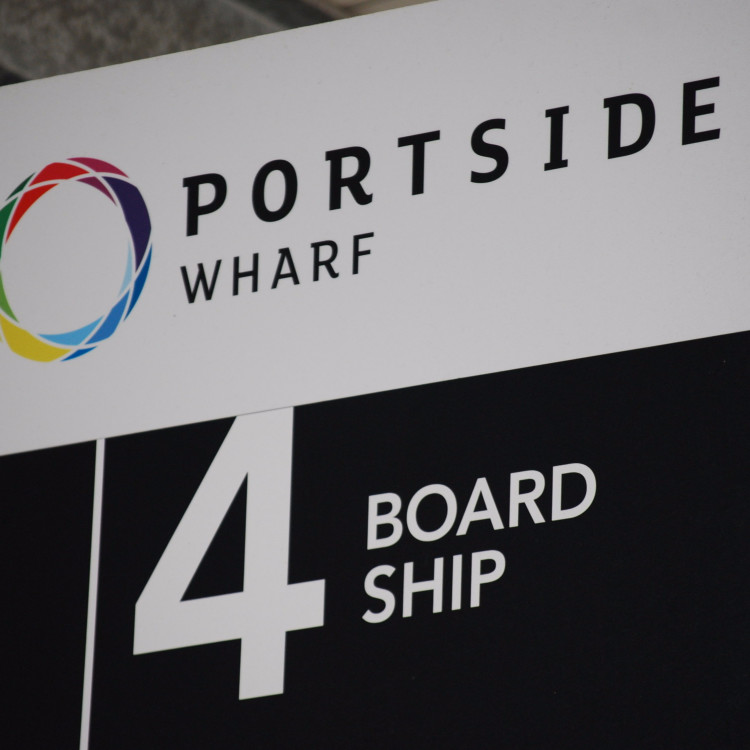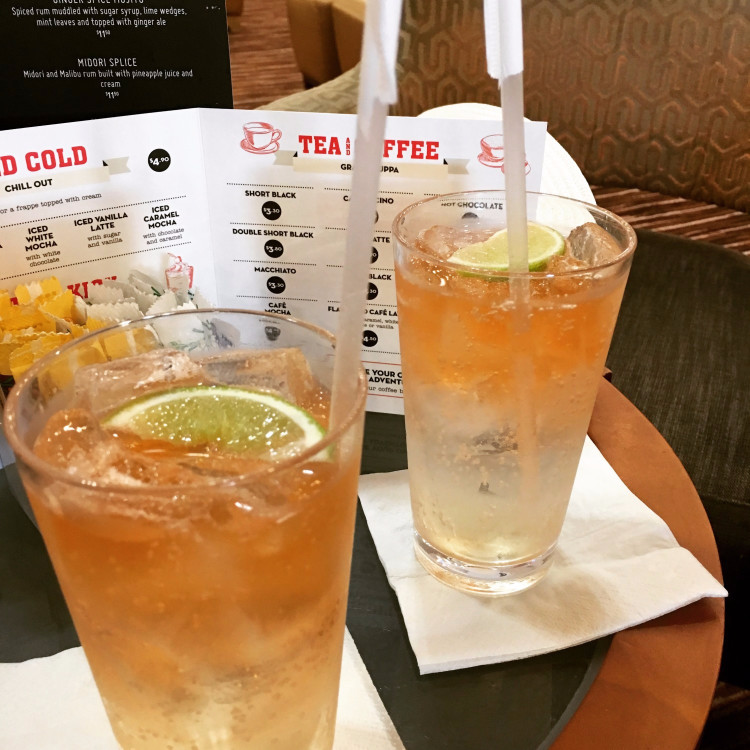 We celebrated Lorraine's Birthday. The staff brought her a little cake with a candle and sang Happy Birthday. It was lovely.
Day 2: Thursday 13th October
We are in the Coral Sea heading towards our first port Santo. Roughly 1000 nautical miles from Brisbane. In the morning I did Walk The Plank. It was windy and really hard to walk out on that plank. But I did it. Woo Hoo.
Went down to Level 5 (Reception) and checked out the shops. Ordered our Photo Package and got our free social media Internet voucher. Bought new batteries for Lorraine's camera and checked out the grand opening of Pandora.
Tip: Get the photo package. If you brought clothes for the dress up parties I suggest getting the photo package. It costs $199. There are up to 5 different backdrops for every party. The photos are top quality. When you get off the ship at each port you get your photo taken. We had over 200 professional photos of us taken. They were prints and the photos were also put on a usb for us.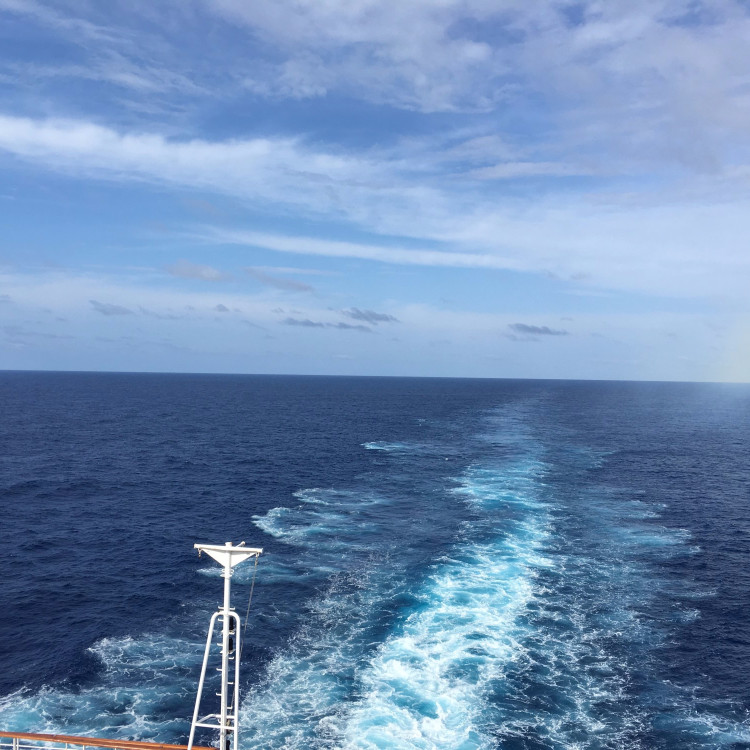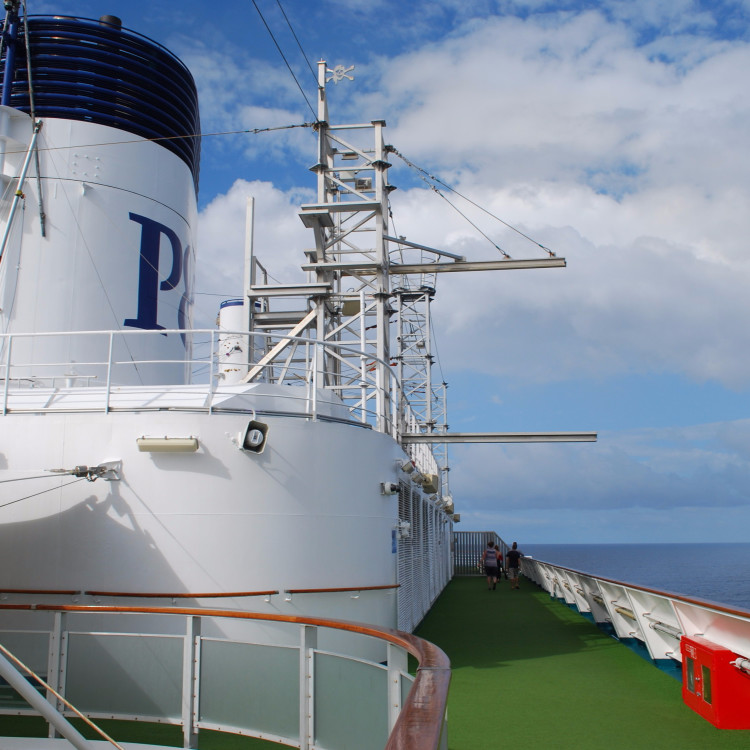 Day 3: Friday 14th October
Lorraine and I did the Titantic Moment. No music was playing. lol.
We explored the ship again today. Tomorrow will be our first port.
Day 4: Saturday 15th October - Santo
Today we arrived at our first port, Santo. So excited. We were greeted by the locals. No tours booked, so we walked down the main road towards the town. Lots of taxis waiting, but we gave it a miss. We checked out a few shops and made our way towards the Markets. The local women have setup marquees to sell their stuff.
Tip: Don't forget to purchase water and take with before you get off the ship. It was hot and humid. We purchased 1 litre bottles with the cooler bag and strap. Probably too heavy, but I am glad we had water with us. Maybe you could get away with 600ml bottles.
Lorraine bought some sarongs and shirts. Walked back and found the Cafe with WiFi. Ordered beer and chips for me and Lorraine had a caramel milkshake. It was the first time we could update our status and fb messaged home. Uploaded a few pics, finished our drinks and food and made our way back to the ship.
In the afternoon I climbed the Crows Nest. That was fun. Great view from the top.
Day 5: Sunday 16th October - Port Vila
Today is our Wedding anniversary, married 8 years. Woo Hoo. We arrived at Port Vila. We were told that Port Vila was the best place to shop duty free and it was.
We docked at Port Vila and the markets were just outside the ship which was a better setup than Santo were you had to walk into town to see the markets.
I couldn't resist buying a new hat. Lorraine bought a few gifts before we moved on. We got to the taxi rank and caught a taxi (old van) into town with a few other people. $5 per person.
We got dropped off at the bottom of the main cbd area and the first shop we went into was Fung Keui (Port Vila's No.1 Duty Free Store).
We don't really drink alcohol. BUT… 4 and half litres for $90. Couldn't say no. lol. Vodka, Jim Beam, Tia Maria and Johnny Walker. There are a lot of people who are just waiting for tourists. As you can see I got a picture of me and the lizards. They pounce on you and before you know it you are handing money over for the photo. It's cool though.
Around lunch time it began to rain. The roads were covered in water as the drains were clogged. We decided to make it back to the ship. The taxi driver tried charging us more money. We got him to agree on the price or we were getting out, then gave him the money.
After getting back to ship we played Trivia on level 5. Edge was cancelled due to the weather.
Tomorrow we arrive at Mystery Island.
Day 6: Monday 17th October - Mystery Island
Arrived at Mystery Island. No port today. We use tenders to get to the island.
Mystery Island was beautiful. The water was flat and clear. Not like our surf back home.
After getting back to the ship I then did the Edge Sign Experience. That was fun.
Day 7: Tuesday 18th October - Lifou
Today we arrived at Lifou. After breakfast we made our way to the tender and made our way ashore.
We walked to the top of the hill to see the Church. To get there you walk up the sealed road and turned left. Takes about 30 mins. The climb was pretty easy as there was steps and a railing from the bottom to the top. The church is the main feature of the climb. The view is awesome. You can see the ship just sitting in the water. Definitely an awesome experience.
After getting back to the ship I did the High Ropes. This was the most challenging thing that I've done and the most rewarding.
Tonight was the Bianco Party (White Party). So much fun. So much dancing. We will pay for it in the morning. lol.
Day 8: Wednesday 19th October - Noumea
Arrived at Noumea. Got off the ship and checked out the markets right at the port. Bought a ticket on the hop on hop off bus. The first stop was the morning markets. Lots of great stuff. Second stop was Lemon Beach. Found bar and Restaurant called 3 Brasseurs. Had a beer, half a litre of beer, lol. Found a chocolate shop called Fonton Jules and bought some chocolate. We ate it before we got back to the ship.
Got back onto the bus and made our way back to the ship. Got off at Mcdonalds and got a meal deal and posted pics onto Facebook with the free WiFi.
Walked back to the ship.Chilled for the afternoon. That night after dinner we watched London Has Fallen. Awesome day.
Day 9: Thursday 20th October
Sea day. Today and tomorrow we are cruising back to Brisbane.
Day 10: Friday 21st October
Day 11: Saturday 22nd October
Arrived back at Brisbane. Early start. Had to pick up alcohol at 6am. Didn't have time for breakfast. Disembarked the ship at 6.30. Waited for Renee to pick us up. Our cruise was over.